Some skirmishes in the "Battle of the Church Benches" at Guise
Source: BnF, ms. Clairambault 1205
In my article about the "défis de la quenouille" (XVIIe Siècle, 1984), I recounted the dispute between Marie de Lorraine, duchess of Guise, and Lafitte (or La Fitte), the royal governor of Guise. The dispute ended in a battle for precedence waged under the roof of the parish church of Guise. I am fond of the tale, so I am reproducing my notes here, as Fugitive Pieces. The provenance of these papers can be deduced: they were among Mlle de Guise's papers at the time of her death in 1688, were saved by Gaignières, and after the latter's death were spirited away by Clairambault, who had access to his famous collection.
But first, one detail that sets the stage for the Battle: Near the center of the church of Guise is the dalle funéraire of Jean-Paul de Lafitte de Belleport, seigneur de Beuvron, governor of Guise until his death in 1677. He apparently got on well with Mlle de Guise: at any rate, I recall no veiled hints about conflicts between the Duchess and the Governor. But things turned sour for Her Highness early in 1677, when another La Fitte ­ probably Jean-Paul's son, whose Christian name I do not know ­ was appointed to succeed him. The new Governor claimed perquisites and rights that had long been exercised by the Guises, and he did so in a hurtful and vengeful way. For more than three years he and Mlle de Guise exchanged bitter words and sent detailed requêtes to Louis XIV.
Mlle de Guise versus La Fitte
The first document provides the background to the Battle of the Benches. It is entitled Première Requête de Mlle de Guise. In it she replied to a "requête" drawn up by the new Governor. Her Highness's assertions alternate in this document with counter-charges made by La Fitte.
First of all, she "represents" to Louis XIV "qu'après que les violences et les entreprises du sieur Lafitte sur ses droits [that is, Mlle de Guise's rights] dans son Duché de Guise avoient esté si justement reprimées par les arrests de V.M. et sur tout par celui du 30e juillet dernier [the year is not specified], elle esperoit qu'il ne seroit pas assez hardy pour les continuer...." But La Fitte did just that!
"... ne se contentant pas d'attaquer la Suppliante dans ses droits, il [La Fitte] l'a attaquée personnellement par un libelle diffamatoire, qu'il a cru pouvoir faire passer en luy donnant la forme de requeste, et qu'il a fait imprimer et répandre dans toute l'étendue du Duché de Guise, comme une piece propre à décrier la conduite de la Supliante et à soulever ses vassaux contre elle, leur faisant entendre qu'il avoit ordre de V.M. de recueillir les preuves des faits calomnieux qu'il avance dans ce libelle."
Her Highness's principal request is réparation from the King, who will surely not leave "une telle injure impunie." (p. 1)
La Fitte had stated that "il est étrange que Mlle de Guise se persuade qu'il est de son autorité d'appuyer les entreprises de ses officiers, et qu'un Gouverneur de place ne soit qu'un phantome obligé de suivre ses mouvements et de se prester à ses desseins." To this she replied that La Fitte thinks his authority should be "sans bornes": indeed, everything her officers do is interpreted as "entreprises sur la sienne [autorité]" ­ that is, La Fitte's authority. (p. 2)
La Fitte, she points out, "began" his governorship "par faire le seigneur dans Guise comme s'il en estoit le proprietaire, et par usurper les droits les plus jaloux, et les plus delicates dans la Seigneurie, en faisant publier des ordonnances, tant sur le faict de la chasse, qu'il defendoit à toute sorte de personne de quelle qualité qu'ils fussent sans sa permission expresse, que sur la translation des Marchez, qu'il changea de son authorité privé pour quelque interet." Another document (fol. 243) reveals that the dispute between Mlle de Guise and La Fitte began back in 1677: that is, he restricted hunting in May and he moved the market in December. In other words, the elder La Fitte was scarcely in his tomb in the parish church of Guise than the new Governor "began" what Mlle de Guise viewed as a usurpation of her rights and privileges.
La Fitte had gone to Paris to see Mlle de Guise. During their meeting she had remarked that the King "avoit poussé ses conquestes si avant qu'il n'estoit pas besoin d'avoir un gouverneur à Guise, qu'on ne devoit pas se figurer avoir la mesme authorité que les gouverneurs cy-devant, et qu'à proprement parler, le gouvernement de Guise n'estoit plus que le gouvernement de Vaugirard" ­ a little village just beyond the city walls of Paris. Taking this allusion to Vaugirard as an insult, La Fitte replied "qu'il ne pensoit pas que V.M. luy eût donné le gouvernement sur ce pied-là."
La Fitte recounted how Gabrielle de Roquette, bishop of Autun (described by some as Mlle de Guise's "Tartuffe"), suddenly appeared on the scene: "Sur les entrefaits, Monsieur d'Autun entre, se met dans la conversation, s'adresse à la Fitte. Il faut s'accomoder (dit-il) avec Mademoiselle, vous y trouverez vos avantages. Le Supliant [La Fitte] a répondu en ces termes, qu'il n'avoit pas accoutumé de recevoir rien de personne que de V.M."
Mlle de Guise explained to the King what she had meant by alluding to Vaugirard. La Fitte, she insisted, was trying to find an excuse for his orders about hunting and markets, and was chalking his actions up to the "seurté de la place." "Elle luy repondit que ces raisons-là auroient pu passer dans un autre temps; mais qu'au poinct où V.M. avoit poussé ses conquestes, c'estoit se mocquer que de faire valoir l'importance du gouvernement de Guise pour authoriser ce qu'il avoit fait de la chasse, sur la jouissance des Domaines, et sur la translation du marché et que l'on pouvoit dire, à la gloire de V.M., que quant à la seurté de l'Estat, le gouvernement de Guise estoit à peu près comme le gouvernement de Vaugirard." (p. 4)
La Fitte was also protesting the fact that one of Mlle de Guise's protégés, Bridieu, was being provided with chauffage while he, La Fitte, was given far less wood. Mlle de Guise explained that Bridieu got these large amounts because "il avoit toujours esté attaché à la Maison de Guise." (p. 5)
La Fitte also accused her of making "des coupes extraordinaires des bois de Guise," and of paying workers (300 of them) in "monnoyes entrangères ... dont ils ne se peuvent s'en defaire, ... ils se plaignent ...." Nor did she ask the approval of the Eaux et Forêts before ordering this lumbering. To this she replied that the wars had prevented the usual lumbering, and the forests needed to be thinned out because trees were dying. (p. 6)
La Fitte repeated his claim about 300 people having complained to him (p. 8). This prompted him to assert that they "gemissent ... sous une tyrannie plus cruelle que l'ennemi ou la guerre." Mlle de Guise countered this accusation with a discussion of all the good works she was paying for at Guise: a hospital, schools, and missionaries. (p. 11)
La Fitte next accused her of not allowing the inhabitants to vote for the maire, the lieutenant, and the échevin. To this she replied that there is no "charte de Guise": rather, the seigneur selects these officials and keeps them in office when it is for the public good.
La Fitte claimed that "Mlle de Guise se prétend plus souveraine dans Guise que V.M.," a statement she interpreted as meaning that "La Fitte renouvelle ... l'accusation de crime de leze-Majesté." (p. 17)
Somewhat later, in a reply to La Fitte's assertion that a strong governor was needed at Guise, an exclamation found its way into the requête: "Quoy! ... il oze avancer que la Supliante veut se rendre souveraine dans Guise, et y secouer le joug de l'obeissance de V.M.!" She was especially offended by La Fitte's veiled suggestion that if a strong governor was essential, it was owing to past treachery by the House of Guise: " ... surtout dans la ville de Guise, par des raisons que la Fitte dissimule et que l'histoire de dissimule pas." (p. 24)
The church benches
A rather disingenuous and quite pro-Guise account of how the church benches came to be modified in 1680, appears somewhat later in this volume. These pages are entitled "Le chef d'oeuvre du Sieur de la Fitte et de Son Conseil" (pp. 101ff):
"Aux deux costés de l'autel de l'Eglise de Guise, il y avoit une closture de menuiserie, contre laquelle estoit le banc des Seigneurs. [La Fitte persisted in calling this old bench the "banc du Gouverneur"!] Le Sieur de la Fitte se mettoit dans ce banc, estant juste que celuy qui commande pour V.M. ait la place la plus honorable; mais le banc, aussi bien que le costé de menuiserie, estoit fort vieil et fort usé. La Supliante a fait refaire l'une et l'autre, [these words are underlined and, in the margin someone wrote: "certificat par devant notaire, et une lettre du curé"], et comme on ne place point de menuiserie neuve qu'on n'oste la vieille, pour poser le nouveau banc il a fallu oster cet ancien, et on l'a mis vers la porte, où il y avoit quelque place vide. ... L'on ne croiroit jamais que le Sieur de la Fitte se dust tenir offensé de ce que l'on le met plus proprement et plus à son aise; car l'a-t-on empeché de se mettre dans le banc neuf, comme il faisoit dans le vieux? Point du tout, et il n'a tenu qu'à luy de s'y mettre." La Fitte was claiming that he had heard rumors that the bench was destined for the maire and the échevins (f. 101). Whether this was true or not, he was digging in his heels and refusing to sit on the new "Seigneurs' Bench."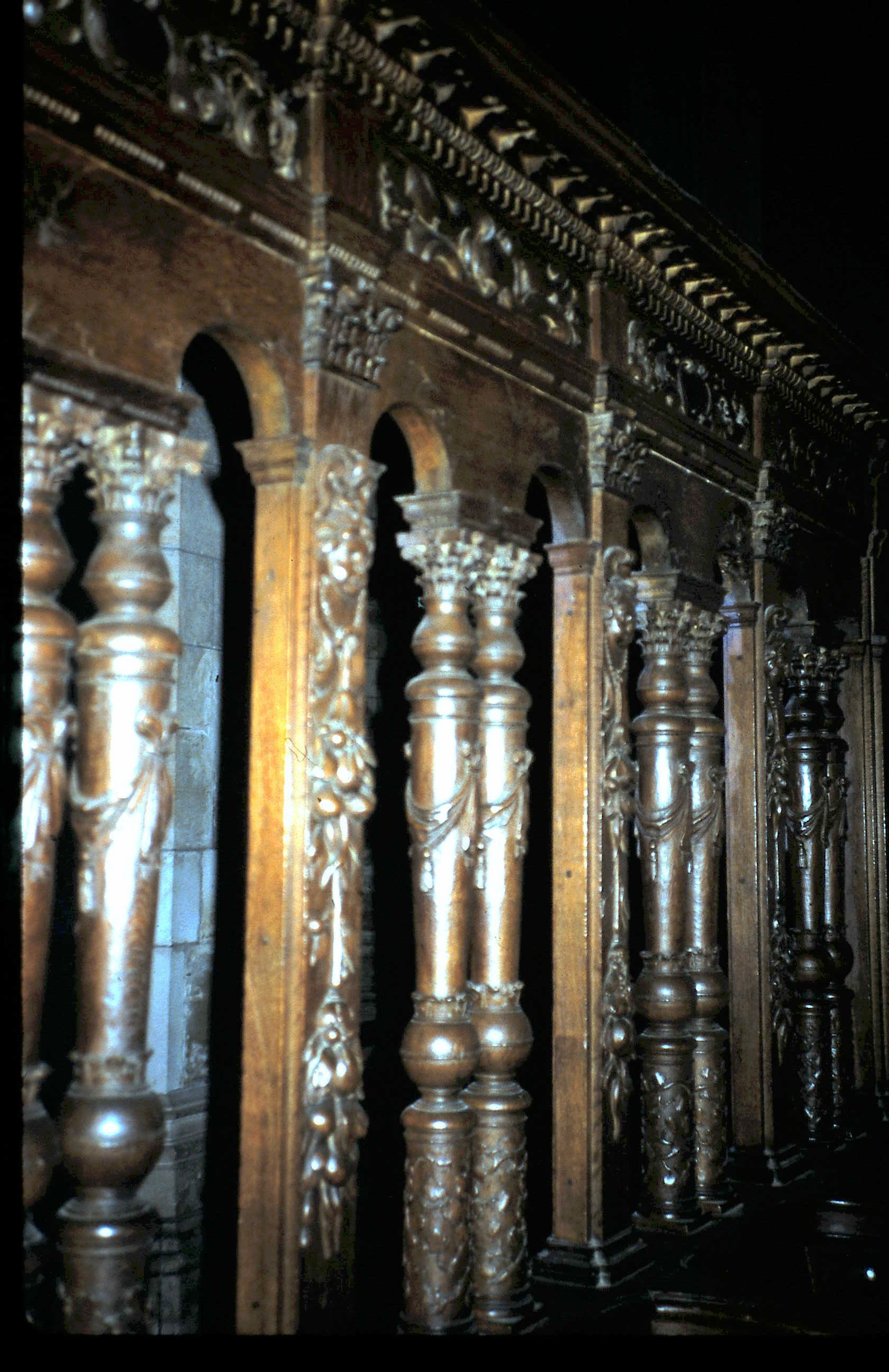 (The picture at the left shows some of this "closture de menuiserie" that has survived in the choir of the church of Guise.)
A few pages later, we learn an important detail about the new benches: they were emblazoned with the arms of the House of Guise! (That this detail is mentioned suggests that old bench had not borne the arms of the Lorraines of Guise.) "Il semble que le Sieur de la Fitte trouve mauvais que la Suppliante ait fait mettre ses Armes à ce nouveau banc, mais pourquoy n'useroit-t-elle pas dans sa Terre d'un droit acquis aux moindres seigneurs de paroisse et qui ne luy peut estre contesté, à moins qu'on ne luy conteste la Seigneurie de Guise. ... Car enfin ce banc est le banc des Seigneurs, et c'est pour cela ... qu'il est juste que le Gouverneur s'y mette. ... La Supliante declare qu'en faisant refaire ce banc, elle n'a jamais songé qu'à la décence de l'Eglise." (f. 108v)
This pro-Guise publication makes much of the fact that the benches in the church are now symmetrical. That is, the "banc du Seigneur" is directly opposite the bench on which Mlle de Guise's officers sat. This was just what was enraging La Fitte, and Mlle de Guise must have known it. That is to say, instead of sitting slightly closer to altar than anyone else, as governors did in the past, La Fitte was supposed to sit down on a bench that was more or less the hierarchical equal with the bench occupied by Her Highness's officers. Precedence had been toppled! To this complaint La Fitte added one that smacks of sour grapes: the new bench was far less comfortable than the old one! (fol. 121)
The old bench to which La Fitte was so attached was removed from the church in 1680. There is strong evidence that Her Highness's officers left it in the rear of the church for awhile, in hopes that La Fitte would stubbornly occupy this humiliating position during worship services being planned for Mlle de Guise's visiting the city with her Music. We do know, however, that by the end of 1680 the bench had been carted away: one document, dated 1680 (fol. 355), alludes to this removal of the "banc du Gouverneur ... que Mlle de Guise a fait oster de l'Eglise depuis peu de jours." By removing the bench, La Fitte's supporters argued, "sa haine [Mlle de Guise's] se declare ouvertement," and by this gesture she has shown that she does not believe that "the governor is the embodiment of the King." (fol. 355)
On or around December 16, 1680, La Fitte addressed a troisième requête to Louis XIV. At the time, the old bench was still in the back of the church: in fact, it is described as being at the rear of the church. La Fitte goes into considerable detail about the positioning of the three benches. And then a new fact surfaces: the bailiff has been given a more prestigious seat than before: the backless bench (forme) on which he used to sit has been replaced with a bench with a high back emblazoned with the Guise arms. Indeed, La Fitte finally admits just how upset he is about his loss of face: "Le Banc du Gouverneur a esté deplacé dans le dessein de luy faire injure et porté à la porte de l'Eglise afin d'avilir son authorité, et pour le rendre meprisable aux habitants de la ville de Guise. C'est une entreprise et une violence publique que l'on ne peut reparer qu'en restablissant le banc à la mesme place et de la mesme figure qu'il estoit avant qu'il eut esté deplacé. ... Les officiers de Mlle de Guise ont fait construire deux bancs l'un à droitte du coeur [choeur] pour le Bailif et l'autre à gauche pour les mayeurs en paralest [sic] l'un de l'autre, lesquels bancqus sont enfonsés dans les chapelles qui sont [h]ors du coeur et l'acoudoir desdits bancqs sont à la place où apuyoit le baleustre du coeur, lesquels sont fermés comme un coffre et ne sont posés que de costé de l'autel avec les armes de Guise en relief et que le banc du Gouverneur estoit placé dans le coeur tout entier et de face à l'autel, ce qui estoit une marque de distinction que doit avoir un gouverneur de place, en y representant V.M. Et que le bailly avant la construction desdits bancqs il estoit sur une forme [backless bench] du costé à l'autel, et que le bancq que les officiers de Mlle de Guise ont fait oster estoit tres beau et pouvoit encore durer plus de cent ans. ... L'ancien banc du gouverneur a esté placé à la porte de l'Eglise proche le benitier et ... le nouveau bancq que l'on a fait placer près le maistre autel est destiné pour les mayeurs, et pour cet effet l'on y a fait mettre les armes de Mlle de Guise en relief ainsy qu'à celluy du baillif." (fol. 472v-473) The old "Governor's Bench" clearly had not yet been removed from the church. Was its removal in the course of the next two weeks Mlle de Guise's reply to La Fitte's third requête?
La Fitte continued to protest (fol. 529v); but Louis XIV apparently turned a deaf ear. At any rate, the two symmetrically placed benches ­ their coats of arms were destroyed during the Revolution ­ can still be seen at Guise. And the old "Governor's Bench" was not reinstalled to the church. A close look at those benches reveals that they were not new, were not made especially for Mlle de Guise's visit. Rather, they were cobbled together from late-sixteenth or early seventeenth-century furniture. To these older benches more modern embellishments were added in 1680.